recalque diferencial
(Portuguese text below the images)

Secret Lines
Agnaldo Farias

Held in one of the rooms of the Galeria Emma Thomas in 2015, Recalque diferencial (Differential Settlement) encompasses aspects to a certain extent correlated to those of Dimensão encerrada. Derived from an installation made during his stay in London, Perpetual instability, a product of his research on the intended immutability of architectural constructions that adhered to the brutalist agenda, Recalque diferencial transfers the problem to Brazil, where this school was put into practice, especially in the emblematic example provided by the building of the College of Architecture and Urbanism of the University of São Paulo –FAUUSP, the masterpiece of Vilanova Artigas, founder of the college, and the work of the equally renowned Paulo Mendes da Rocha, winner of the Pritzker prize. A graduate of architecture from PUC of Campinas, Lucas Simões did not go unaffected by this tradition and began speculating on how the products of this branch in Brazil generated monumental works, as opposed to the British branch, where the majority of buildings have either been demolished or are under risk of demolition.

In our country modern architecture worked as a sign of emancipation, ample proof that the future had arrived. Paulo Emilio Sales Gomes, Mario Pedrosa, among many other intellectuals, commented on the particularity of a people that, due to the lack of a solid history, was, as written by the critic from Pernambuco, "condemned to be modern." The spacious extraction of modern architecture was the proof that the future was no longer on the horizon, but had arrived. And the decanted Brutalism of São Paulo, disseminating "the truth of the material," leaving the conduits and structural elements exposed, detaching architecture from finishes and other strategies for covering the work process, tried to bring light to the result of the construction work of the building, valuing it, respecting it, making its presence a basis for Ethics to be bound to Aesthetics. Despite the beauty of this project, the political paths of Brazilian society did not develop the same way, and under the truculence and iniquity of the military dictatorship, resulted in the disaster of democratic life dipped in corruption that would prove chronic and astronomical, the dismissal of the second president elected by popular vote and the maintenance of a distribution of wealth which still brings us shame and is far from being overcome.

Recalque diferencial bears the name of a phenomenon in civil construction that consists of the uneven settlement between two elements of the same foundation, an event which causes walls to split, with cracks that run diagonally. The installation consist in remaking the concrete floor of the room set over a "bed" of foam. Therefore, visiting the room contributes to its ruin, if such a term can be used for the unpredictable design of the cracks which are formed from the weight of steps, which are initially surprised by the instability of the floor, a behavior that contrasts with the experience we have with the material, which associates it with solidity and stability, and which eventually evolves into an exercise based on change, but also on the desire to catalyze its destruction.

If it is true, as defended by Paul Klee, that to design is to take a line for a walk, our paths, whether guided or not, random or premeditated, trace lines along houses and streets, inside cities, from one to the other, in excursions to the fields, mountains, beaches, places that are deserted, remote, and even through the sky. This idea was and continues to be worked by various artists, such as Richard Long walking through the landscape, registering his obsessive comings and goings or simply strolling through it; like Rafael Assef who recorded in successive layers over a grid tattooed on his body, always using a sharp blade, the routes/scars described in certain moments of his life. Jorge Macchi, once broke a plate of glass only to later superimpose it over a map of Buenos Aires, where he lives, along the route which he later took. What designs do we draw in our lives and, according to Macchi, who makes us draw them? Thomas de Quincey, speculating about the importance of chance, qualified the phrases heard on the street as a safe sign of what should be done. In Conto de fadas, the Belgian-Mexican Francis Alys went walking at random through the streets of Stockholm, allowing his blue pullover to unravel like a reverse Ariadne who, instead of providing the possibility of Theseus leaving the labyrinth unscathed, used his body to draw its own labyrinth. The allusion to Theseus, passing over Situationalists, to cite only one group of distinguished walkers endowed with the desire to map/trace their wanderings, is derived from the need to identify this activity as atavistic and ancestral comprehension of the body as an entity that produces designs. In order not to commit a grave omission, it would be proper to cite the pathways of the Australian aborigines through the great interior desert of that country/continent as a design generated by these sacred beings and which they must continuously be remade under the risk of ceasing to exist.

With his Recalque diferencial, Lucas proposes a design that results from the weight of steps, in conflict with a floor whose robust concrete does not prevent it from being transformed, absorbing the marks left by those who step upon it, producing the lines which, in general, we barely notice, or ignore, which does not prevent them from producing sentiments.

Images and video : Paulo Peixoto / Brutal Studio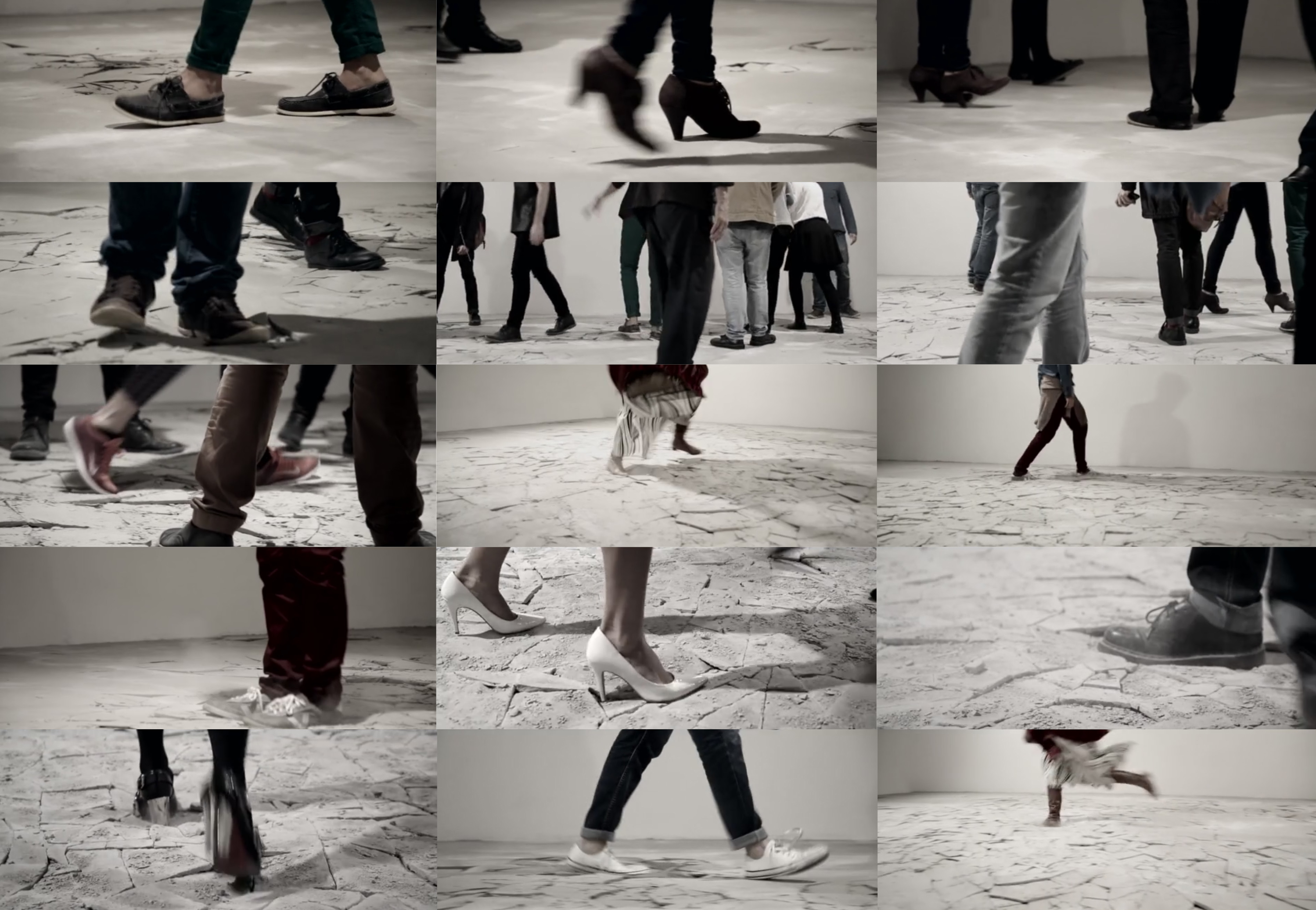 images of the exhibition, Galeria Emma Thomas,
São Paulo, Brazil, 2015
Texto em português

Secret Lines
Agnaldo Farias

Realizado numa das salas da Galeria Emma Thomas em 2015, Recalque diferencial aborda aspectos em certa medida correlatos aos de Dimensão encerrada. Derivada de uma instalação realizada durante sua estadia em Londres, Perpetual instability, um produto de sua pesquisa sobre a pretensa imutabilidade das construções arquitetônicas que seguiam a agenda brutalista, Recalque diferencial transpõe o problema para o Brasil onde essa escola fez praça, do que é exemplo o emblemático prédio da Faculdade de Arquitetura e Urbanismo da Universidade de São Paulo –FAUUSP, obra prima de Vilanova Artigas, fundador da faculdade, e a obra do igualmente cultuado Paulo Mendes da Rocha, prêmio Pritzker. Formado em Arquitetura pela PUC de Campinas, Lucas Simões não passou incólume por essa tradição e passou a especular como no Brasil os produtos dessa vertente que, ao contrário da matriz britânica, cuja maioria das edificações encontramse ou já demolidas ou sob o risco de demolição, geraram obras monumentais.

Em nosso país a arquitetura moderna atuou como signo da emancipação, prova cabal de que o futuro havia chegado. Paulo Emilio Sales Gomes, Mario Pedrosa, entre tantos intelectuais, comentaram a particularidade de um povo que, por não ter uma história sólida, estava, como escreveu o crítico pernambucano, "condenado a ser moderno". A extração arrojada da arquitetura moderna era a prova de que o futuro não estava na linha do horizonte mas havia chegado. E o decantado Brutalismo paulista, propalando "a verdade do material", deixando a nu os conduítes e elementos estruturais, desataviando a arquitetura de revestimentos e outras estratégias de recobrimento do processo de trabalho, empenhava-se por trazer à luz o resultado do trabalho do operário da construção, valorizando-o, respeitando-o, tornando- o sua presença um fundamento para que a Ética se casasse com a Estética. Em que pese a beleza desse projeto, não foi bem assim que se desenvolveu os caminhos políticos da sociedade brasileira, e à truculência e iniquidade da ditadura militar, seguiu-se o desastre da vida democrática mergulhada numa corrupção que se revelaria crônica e gigantesca, o afastamento do segundo presidente eleito pelas urnas, a manutenção de uma distribuição de renda que ainda nos envergonha, longe de ser superada.

Recalque diferencial leva o nome de um fenômeno do âmbito da construção civil que consiste no afundamento desigual entre dois elementos de uma mesma fundação, acontecimento que tem como efeito paredes cisalhadas, ou seja, com rachaduras em linhas diagonais. A instalação consiste no assoalhamento do chão da sala com placas grossas de concreto, todas elas ajustadas sobre um "colchão" de espuma. Visitar a sala é, portanto, contribuir para sua ruína, se é que vale a aplicação deste termo para o desenho imprevisto das rachaduras que vão nascendo dos passos, num primeiro momento surpresos com a instabilidade do chão, um comportamento que contrasta com a vivência que temos do material, que o associa a solidez e estabilidade, e que eventualmente evolui para um exercício fundado no acaso mas também de um desejo de catalização de sua destruição.

Se é verdade que, como defendia Paul Klee, desenhar é levar a linha para passear, nossos passeios, dirigidos ou não, aleatórios ou premeditados, realizam desenhos pelas casas e ruas, no interior das cidades, de uma para outra, nas excursões por campos, montanhas, praias, lugares ermos, remotos, até mesmo pelo céu. Essa ideia foi e vem sendo trabalhada por artistas variados, como Richard Long andando pela paisagem, marcando com seu ir e vir obsessivo ou simplesmente deambulando por ela; como Rafael Assef que gravou em camadas sucessivas sobre uma grelha tatuada em seu próprio corpo, sempre com uma lâmina afiada, as rotas/cicatrizes descritas em determinados momentos de sua vida. Jorge Macchi, certa vez, quebrou uma placa de vidro para depois sobrepô-lo sobre um mapa de Buenos Aires, onde vive, rota que ele depois cuidou em fazer. Que desenhos realizamos em nossas vidas e, segundo Macchi, quem os manda fazer? Thomas de Quincey, especulando sobre a importância do acaso, qualificava como presságio seguro do que devia ser feito as frases ouvidas na rua. Em Conto de fadas, o belga/mexicano Francis Alys saiu andando a esmo pelas ruas de Estocolmo deixando que seu pulôver azul se fosse desfiando como uma Ariadne as avessas que, em lugar de fornecer a possibilidade de Teseu sair incólume do labirinto, desenhasse com seu corpo seu próprio labirinto. A alusão à Teseu, passando por cima de Situacionistas, para citar apenas um grupo de insígnes caminhadores dotados do desejo de mapear/desenhar suas derivas, corre por conta da necessidade de se indicar essa como uma atividade atávica e ancestral compreensão do corpo como instância produtora de desenhos. Para não incorrer numa grave omissão, caberia evocar os périplos dos aborígines australianos pelo grande deserto interior daquele país/ continente como um desenho gerado pelos seres sagrados e que eles
devem refazer continuamente sob o risco de cessarem de existir.

Com seu Recalque diferencial, Lucas propõe um desenho que resulta do peso dos passos, em confronto com um chão cuja robustez do seu azulejamento de concreto não impede que se vá transformando, absorvendo as marcas deixadas daqueles que o pisam, produzindo as cifras que, no geral, mal percebemos, ou ignoramos, o que não as impede de produzir sentidos.